Stephanie Moore talks to Deborah Grace about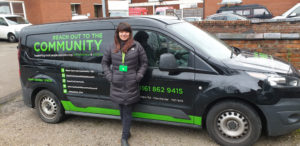 Stephanie co-founded the charity with Becky Elliott to address the growing problem of homelessness in South Manchester.  They carry out support and outreach work on the streets and run a charity shop on Wilbraham Road, Chorlton.
How did you get started?
Becky and I ran Elliott's green grocer's together in Chorlton Precinct.  We used to give veg to the chefs who were cooking up food to give out on the streets.  Then the shop became a drop off point and an unofficial drop in because all the lads who were sleeping rough would just come in to us.  It became a bit overwhelming for the business and overtook what we were doing.  We got involved with a group operating food runs around Manchester.  Reach Out to the Community is an initiative set up to offer support to people struggling with the most basic of needs – food and shelter.
What do you do?
We help people to access basic services like health care, benefits, and getting their own tenancies.  The money that comes in from the shop funds the project.   We also have a volunteer who comes in to help with benefits advice.  People can come in and charge their phones or get something to eat and drink.  And just chat.  We do weekly joint outreach with MCC's rough sleepers' team and CGL (Change, Grow, Live) drug and alcohol service.  Becky and I do the main support work, but we rely very much on our fantastic volunteer team. 
Do you ever get disheartened?
When we lost the first lad on the streets, about three and a half years ago, we were ready for giving it up.  Then one of the support workers said to us, 'You were there for the last three months of his life and you gave him so much comfort.  You gave him the belief that people cared.' It makes you more determined to help; you want to get to people early.  Because when people die on the streets it's often from preventable illnesses – like sepsis or pneumonia.  If they can access health care they won't get to that point.  
What is the most important lesson life has taught you?
Just care about others and if you're in the fortunate position to help people, then do that.  It's very easy to judge, but when you sit and listen to people's stories you realise that there are so many complex reasons why people end up on the streets.  Bereavement, leaving care, broken relationships, childhood trauma.  And for a lot of people there is no support network.  Drugs are obviously an issue on the streets.  People with mental illness may self-medicate (the cuts in mental health services aren't helping) and homeless people are an easy target for dealers.  
What makes you happy?
Walking my dogs – Jack Russells, Milly and Molly.  Going on holiday with my partner.  A good result at work.  Sometimes, the little things – like getting someone to a doctor's appointment – feels like a really great achievement.  All the little things together lead to the big result at the end.  That's what we do.  We do the little things that help set people up to move on.