By

admin
Nov-21-2022
Comments Off

on We're hiring – outreach worker
---
By

admin
Aug-29-2022
Comments Off

on Brightening Chorlton
---
By

admin
Apr-13-2022
Comments Off

on Profile: Stephanie Moore
---
By

admin
Mar-7-2022
Comments Off

on We're In The News
---
By

admin
Feb-16-2022
Comments Off

on More Than a Just a Shop!
---
By

admin
Sep-21-2020
Comments Off

on My First Month with Reach Out
---

My name is Alison (Ally to my friends) I started as Project Manager with ROC, a month ago. What a month it has been! I thought I would write this to introduce myself to you and also give you a little insight into how my first month has been.  I  have been in the homeless sector for 10 years, working on various projects with a number of organisations (as both volunteer and staff member) including the winter night shelters, a community food […]
By

admin
Jul-16-2020
Comments Off

on Behind the Scenes at our Food Bank
---
A NEW FILM! Coronavirus has made life hard for so many people in Manchester. We've been busy all summer, working with the Church of the Apostles in Miles Platting as part of the city's emergency food response network. This film is a behind-the-scenes look at what we've been doing: cooking hot meals for rough sleepers in temporary accommodation, and providing food parcels for people who need extra help.   Find out about what we have – and what we need […]
By

admin
Jul-10-2020
Comments Off

on Reaching out Further with the Rev Ellie Trimble and the Church of the Apostles
---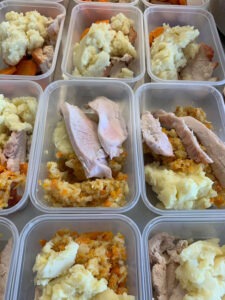 On Saturday 4th July I visited an unassuming church in the middle of a housing estate. This is the epicentre for providing meals to the hotels that house the homeless during this pandemic. It is a well-organised operation, where everybody has their own job to do. The work is carried out by staff from Reach Out to the Community and the Church of the Apostles,  with around 18 volunteers, including professional chefs that have been furloughed from their day jobs. All the […]
By

admin
Jul-7-2020
Comments Off

on Fun Ways to Change Ways, Gain Praise and Fundraise!
---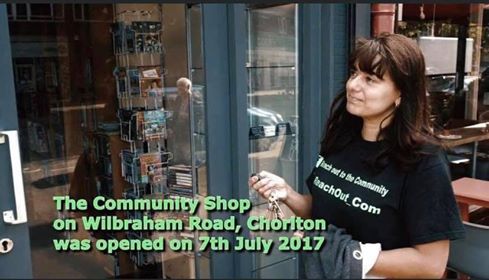 by Ellie Murphy As we all know, the past few months have been a bit of a whirlwind! Down at the Reach Out to The Community headquarters, however, we have been offering non-stop support for the homeless sector, whilst also coming up with innovative ways to raise money during lockdown. Last month, the charity's efforts and perseverance through this hard time were recognised as we were honoured with the Queen's Award for Voluntary Service. This week we will be celebrating […]
By

admin
Jul-3-2020
Comments Off

on Reach Out Get a Move On, whilst you get your groove on!
---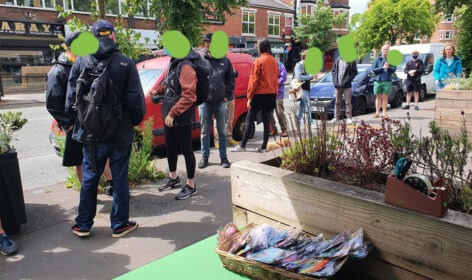 Ellie Murphy Since mid-March, Reach Out To The Community, along with many other Chorlton establishments, has been closed. Despite our staff working endlessly behind the scenes, helping the homeless and vulnerable people within the community, we have really missed our doors being open to anyone and everyone – from our regular visitors and supporters coming to chat about our existing projects, people making donations or customers popping in for a good rummage to find some great bargains. Last weekend was […]