Deborah Grace talks to Shop Manager and Reach Out Co-founder, Becky Elliott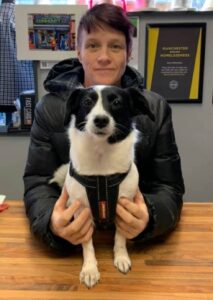 I LOVE this shop!  I really love it and I love being part of this community.  There's always something going on and you get some real characters in a charity shop.  It's a different world.  No day is the same; I never know what's going to happen.  Some days I'll look up at the clock for the first time and it's already four o'clock!  Its non-stop and it can be chaos.  But I love it!
On one level we're a good old-fashioned charity shop.  We sell anything and everything; books, DVDs, CDs and clothes.  We're always desperate for clothes; we sell tons of them.  Men's we don't get so much of.  Men tend to wear everything to the absolute death, don't they?  And then get rid!  We get a lot of great quality donations.  Anything with a brand on goes inside the shop and everything else on the pound rail outside.  It's a good way to move things on quickly, so that stuff doesn't pile up in the back.  And we're very reasonable, price-wise, which makes a massive difference!  We sell bric-a-brac, household items and toiletries.  Also, electrical goods, which we get PAT tested.  We'll pass them on to someone who's moving into accommodation and may need a TV, a kettle or a toaster.  We'll try and get them as much as we can.  What we don't pass on we'll sell in the shop.  Not bedding (since Covid), but everything else. The charity shop is our main source of income at ROC.  It provides funds so that we can help people with things like deposits and payment of rent arrears.  Also, bus fares to get people to GP appointments. It just keeps us going.
We're more than just a shop.  There's not a lot of space, but we also operate as a drop-in.  The lads know they can come in for a chat and get a hot drink, a pot noodle and clean clothes.  We can provide information and advice and help people with form-filling, or offer them a c/o address in order to claim benefits. The shop provides a useful signpost for the local community.  If a member of the public comes across someone who is homeless they'll send them along to us, or they'll let us know if they're worried about someone who is sleeping out.  And while we work predominantly with homeless people and rough sleepers, we get quite a few older members of the local community bobbing in during the day for a chat and a bit of company for ten minutes, which is really nice.  I like to catch up with them.  The community has really embraced us.  Since the first day we opened, the support of local people has been amazing!  They understand what we're doing and where we're going and they want to help.  At first they just see the shop and then they can't believe it when they find out just how much is going on behind the scenes.  Over the last couple of years there's been an increasing public awareness of the issues around homelessness.  Once upon a time, not many people knew someone who was homeless or struggling, but since Covid more people are accessing food banks and needing support.  It's brought the issue much closer to home – literally!
Future goals?  I'd love a bigger shop, somewhere we could have everything under one roof; shop, office and community hub.  A proper one-stop place!  That would be fantastic!